Many a small office doesn't consider centrally managing devices at first. Maybe you started off with just a couple people, each with a device. As you grew, maybe you wrote down the steps you took to setup computers, iPads and iPhones. Maybe you just give people devices and let them spend their first few days getting their mobile devices and computers setup to their liking.
Small Offices and Bushel
Most small offices don't want to restrict the use of devices much. Many larger environments do. Maybe you want your staff to use a passcode, but don't mind if they can access iCloud. Maybe you want to get their mail, shared contacts and calendars setup for them really quickly. Maybe you'd even like to send a few apps to their devices, rather than running out to Target to buy a gift card or having their first expense report be $10 worth of apps. All of this means a little centralized management, but not too much. But don't be frightened off by the thought. There are tools out there, such as Bushel, that make it a snap to manage devices centrally and don't limit your staff from doing their jobs or make them hate you in the process!
[caption id="attachment_285" align="aligncenter" width="375"]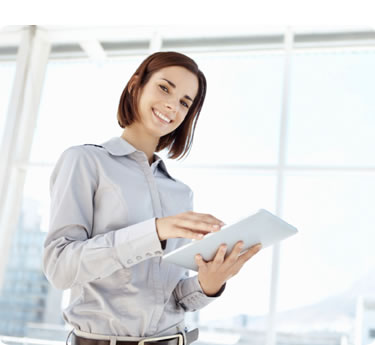 Small offices using Bushel[/caption]
What's great is that you can ship your staff a device directly from Apple, have them open the original Apple packaging, smell that new device smell and get to being productive almost immediately. This means that if you've got people spread all over the place, people can get working quickly.  And if they lose the device, you can just wipe it remotely and ship them a new one (reserving the caning for the next time you see them in person).
You don't need any servers, it's all hosted by us. When you go to signup for a Bushel account, you'll enter a few basic pieces of information like your name, email address (you should use your work address here) and your company name. Once your Bushel is setup, you can optionally add integration to Apple's Volume Purchasing Program (VPP) and/or Device Enrollment Program (DEP) in a few minutes or less. Then, visit the site with devices using one of our easy ways to add your Apple devices, and viola, you're centrally managing a bunch of devices.
Small offices don't need to spend hundreds or thousands of dollars on a server. Small offices won't even need to hire consultants to set it up. Once your Bushel account is setup, we make it easy to manage. When you buy apps or devices, they automagically appear in your Bushel. This gives piece of mind that your devices are well protected and saving you from loosing dozens of hours getting new devices setup to your unique needs. Bushel was made for the small business. So try it out today. First three devices are free!