Who doesn't love a good Apple OS upgrade? Well, perhaps you if your last go-round didn't go so smoothly. Maybe your mobile device management (MDM) vendor didn't offer true zero-day support and you had end users breathing down your neck to get the latest features on their devices. Or you thought everything was in place, but crucial workflows started breaking and the bosses started breathing down your neck to get them fixed.
Either way, all those OS horror stories are a thing of the past. It's a new day and you just discovered the holy grail of Apple OS upgrades guides.
15 years of Apple expertise at your disposal
With 15+ years of experience as the gold standard in Apple device management, we've seen our fair share of OS upgrades in all different types of environments. But, what good is all that knowledge if we don't pass it along?
So, to ensure your Apple upgrades go off without a hitch, we gathered our best and brightest to create a step-by-step guide that walks you through the upgrade process, lays out best practices to follow and warns of "gotchas" to avoid.
Everything you need to know about Apple OS upgrades
Instead of going in to detail here, why don't you just see for yourself and download the guide. That is if you want to learn:
How to properly test your environment before upgrading.
How to provide feedback to Apple if issues arise during testing.
What macOS High Sierra, iOS 11 and tvOS 11 offer, and why these new features matter to you and your users.
How to communicate your upgrade plan and prepare end users.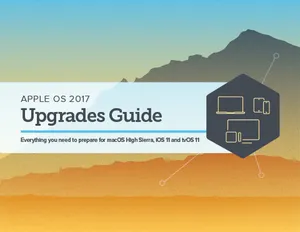 Ready to read our guide and become an expert in Apple OS upgrades?