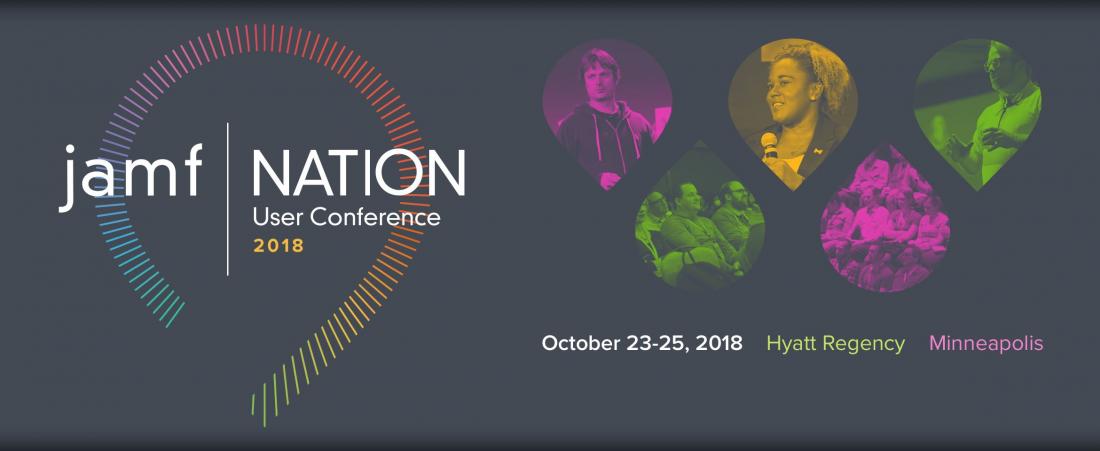 Jamf Nation

User Conference

2018
FAQ
Who should attend JNUC 2018?
Jamf customers, partners and IT community members interested in learning new ways to amplify the power of Apple in their environment.
Whether you're a new or advanced Jamf Pro user, you'll walk away from the JNUC with a pep in your step, a contact list full of new names and a ton of actionable knowledge to help you and your organization work smarter.
How do I register?
Book your individual registration here.
Is there a group registration rate?
If you buy three conference registrations, you get one free. Conference attendees must be from the same company and register on the same order. Redeem this offer on our registration website here.
In order to redeem this offer, please have the following available for each attendee:
Organization name
Full name
Email address
T-shirt size
Work address
Work phone
What is the cost to attend?
Registration includes three days of full access to sessions, networking events and meals (breakfast and lunch).​​​
Standard Registration is $899 (extended through September 24)
Just In Time Registration is $1,199 (September 25 through October 25)
How do I know if I'm registered?
After completing registration, you will receive a confirmation email from Cvent (our ticket processor) with your registration information and details of completed payment.
What forms of payment do you accept?
Visa, MasterCard, Discover and American Express.
Submitting registration by purchase order?
If you are unable to pay by credit card, we can also accept payment in the form of a purchase order. Please select payment by 'Purchase Order' when completing your registration through Cvent (our ticket processor) and add your purchase order number. Please send your purchase order to JNUCpoc@jamf.com for processing. An invoice will be sent to you shortly after. The registration invoice will need to be paid in advance of the conference.
Please contact jnuchelp@jamf.com if you have any questions about the payment options available.
What is your substitution policy?
If you are no longer able to attend JNUC 2018, you can transfer your conference registration to another attendee from the same company for free until September 28, 2018. No substitutions will be made after 5:00 pm Central Standard Time on September 28, 2018.
Please send inquiries regarding ticket transfers via email to: jnuchelp@jamf.com
What is your cancellation policy?
Registration cancellations received on or before 5:00 pm Central Standard Time on August 31, 2018, will be refunded, minus a $100 USD processing fee. There will be no refunds available for cancellations received after 5:00 pm Central Standard Time on August 31, 2018.
To modify or cancel your registration, please select the 'modify your registration' link inside of your registration confirmation email from JNUChelp@jamf.com.
Please send any information regarding cancellations via email to: jnuchelp@jamf.com
What meals are provided?
Breakfast and lunch will be provided each day during the conference. Attendees are responsible for their own dinner. Discounts will be provided at select restaurants in the Minneapolis area. There will also be appetizers and drinks provided at the Jamf Nation Party on Wednesday night.
What resources can help me find my way around Minneapolis during the conference?
We encourage attendees to get out and explore Minneapolis while in town for JNUC 2018. We have curated a list of locations near the Hyatt Regency that includes various restaurants, breweries and attractions—make sure to check for special JNUC discounts at some of these establishments! Access the map here or in the JNUC 2018 app that will be available one month in advance of the conference.
Can I bring a guest to the Jamf Nation Party?
Only JNUC 2018 attendees are permitted to attend the Jamf Nation Party, and therefore, guests are not allowed.
What is the recommended attire?
Business casual attire is appropriate for all functions related to JNUC 2018. We recommend bringing a warm sweater and jacket in case of chilly outdoor temperatures.

What is the code of conduct for the conference?
Please see our 2018 JNUC code of conduct page.
Can you help me secure approval to attend?
Absolutely! Please download our Convince Your Boss letter.

Who do I contact if I have questions?
Please contact jnuchelp@jamf.com if you have any questions regarding JNUC 2018.