Conditional access: Identity is the new perimeter
The modern workplace requires next-generation security.
For decades, organizations built "walls" around their company and leveraged network perimeters as the first line of defense. But as more work is done outside of company walls and more data moves to the cloud, security parameters must also evolve. Simply creating a network and protecting it by firewall is no longer enough. Organizations need more.
Organizations must provide the right access based on a user, device and the context of their use-case in order to delivery the adaptive and flexible perimeter demanded by today's multi-device, multi-location worker. And where multi-factor authentication falls short, a new method has emerged: Identity-based security.
Remain secure with conditional access.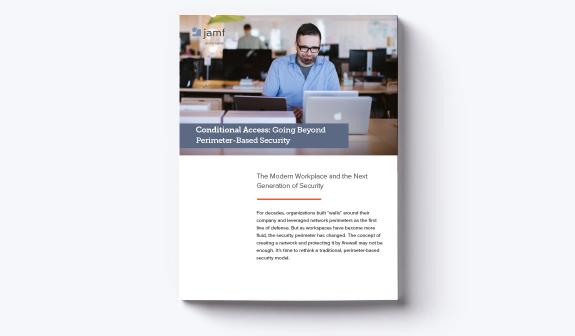 Identity is the one commonality across all of a user's devices, and can transcend simple user, device or token-based security. But how does identity-based security and conditional access work, and why does it matter? Our white paper provides answers.
Simply fill out the form and see:
Where traditional, perimeter-based security models fall short and leave organizations vulnerable
How Jamf and Microsoft ensure only trusted users on trusted devices access corporate data
Why proxy-free conditional access streamlines the security process and keeps the user experience intact