Managing Mac in a Windows world
Get ready, here it comes
A recent survey of IT professionals shows use of Apple in the enterprise has grown significantly in the past decade.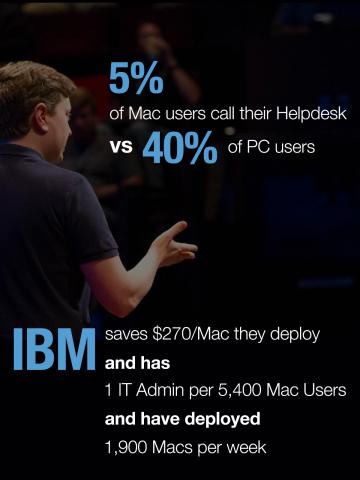 Offering IBM employees a better platform
Fletcher Previn, VP of Workplace-as-a-Service, led IBM's transformation from a Windows-centric organization to supporting the Apple platform.

IBM's approach is user-focused. They manage Macs in a way that has been typically reserved for mobile devices. The goal is to drive self-sufficiency, so users can help themselves instead of solely relying on their help desk.

IBM is deploying 1,900 Macs per week, and currently have 130,000 Macs and iOS devices in the hands of users. And all of these devices are supported by a total of 24 help desk staff members, meaning that each staff member effectively supports 5,375 employees. Remarkably, IBM found that only 5 percent of Mac users call the help desk, compared to 40% of PC users. This shows how simple it is for the staff at IBM to use the Mac platform.

Previn continued the Mac@IBM conversation by saying the upfront cost of PCs is lower, but the residual value of Mac is higher. "A Mac still has value three or four years down the road," he added. With the provisioning and automation practices used to manage Mac, IBM does not need to create images for all of their machines—saving their IT staff significant time.
See what else Previn's had to say regarding the profound impact Mac has had on IBM.
Mac: Enterprise-ready and then some
Over the past 10 years, Apple has quietly made strategic and technical decisions to ensure its devices meet the unique needs of enterprise organizations — especially related to security, enrollment, and support.

78% of IT leaders said user preference was the biggest reason their organizations were supporting Apple.

2014 Dimensional Research Survey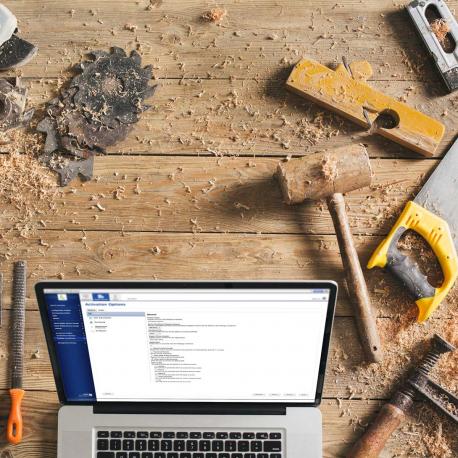 Jamf Pro was built for Mac
Leading IT organizations recognize the unique capabilities of macOS and want a best-of-breed tool built for the Apple platform that integrates with their existing IT infrastructure. Jamf Pro is that tool.
Purpose-built to manage Mac—beginning in 2002—the Jamf Pro has made the lives of Mac IT admins easier ever since.
Bottom line is, a generic tool that offers limited support for a platform is far less useful/productive than a platform-specific tool that has a history of 12 years of development behind it.

Robert Hammen

Senior Systems Engineer, MC Services
Manage Mac in any environment
Jamf Pro integrates easily with any existing IT infrastructure, and ensures IT admins don't have to skimp on the features and capabilities they count on most.
Different name, same function. If you've used SCCM to manage PCs, you'll love the Jamf Pro. It's like SCCM for Mac management.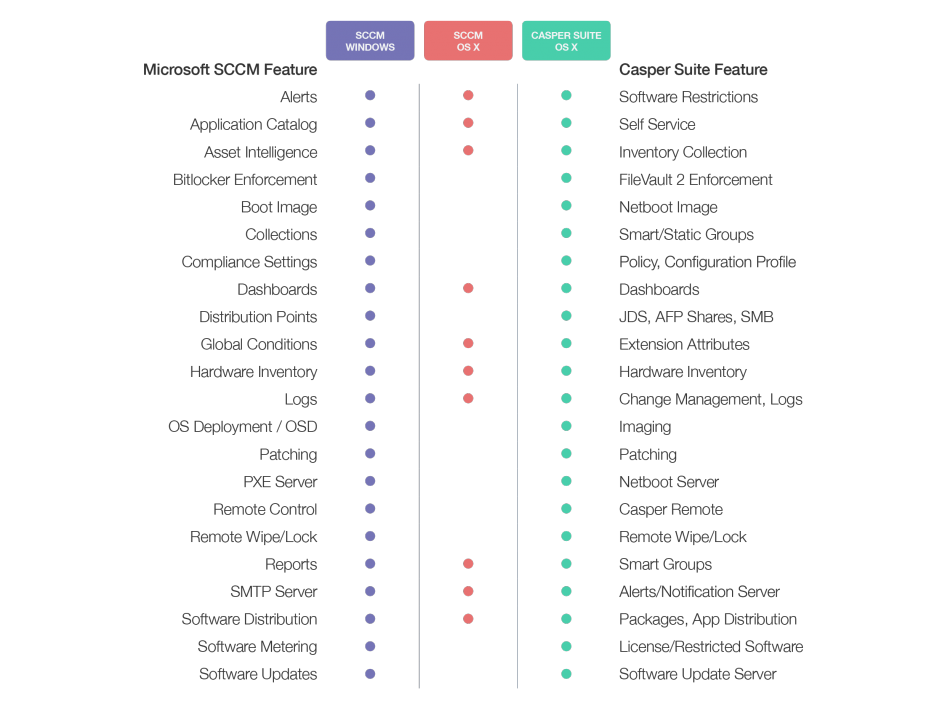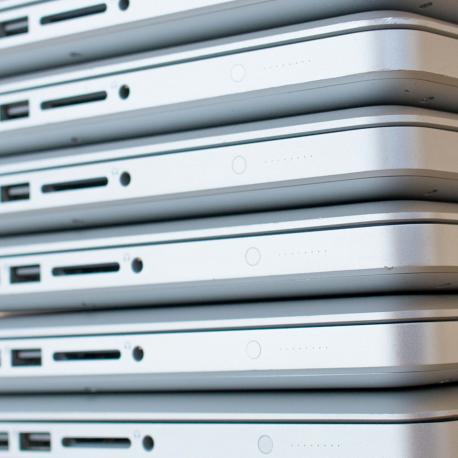 Inventory — where successful management starts
Inventory is the foundation for any IT management system. Jamf Pro is a full Mac client management tool built to support the underlying architecture of macOS from the ground up. It gives IT administrators the flexibility to gather inventory data, so they can get a big-picture view of devices in their environment, see status information, and make wise decisions about device deployment.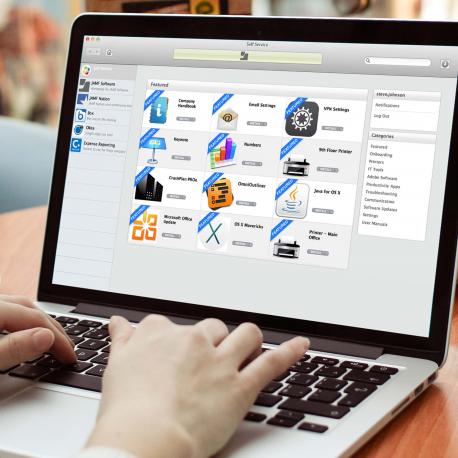 I can spend months figuring out how I'm going to do my Active Directory deployment, figure it out and send out an email. 'Hey guys, open up Self Service and press this button.' I'm not touching 468 machines. I get it set. I tell them to use Self Service and I'm onto my next project.

Scott LaPaglia

IT Systems Administrator, Ping Identity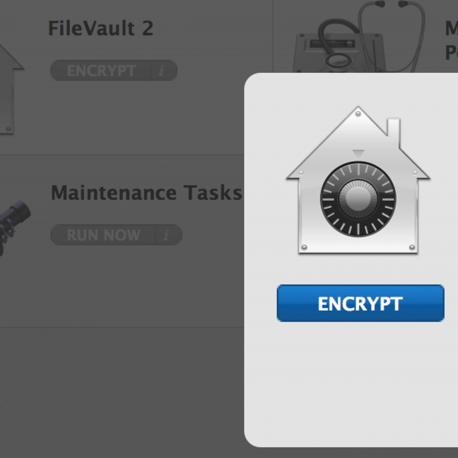 Security — take advantage of Apple's native framework
macOS includes powerful security controls for data security, application security, and user authentication. When paired with the Jamf Pro, it offers IT groups a powerful security option without the additional complexity of third-party utilities. From full disk encryption with FileVault 2 to remote lock and wipe, you can enjoy peace of mind knowing sensitive data is secure.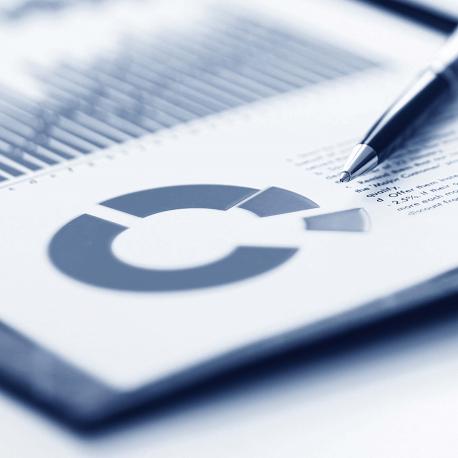 Start building your case
Read how the Jamf Pro delivers significant ROI in the following areas:
Imaging
Inventory
Software Distribution
Patch Management
Settings and Security Management
License Management
Compliance and Usage Management
Download the Jamf Pro ROI Overview
Best-of-breed software is only the beginning
Choose the Jamf Pro for your Mac management and you'll get more than just a tool purpose-built to enable unprecedented IT control, ensure data security, minimize level one help desk tickets, and enhance productivity — you'll also get: 

Service and support from professionals versed in enterprise Mac management, and expert at integration projects.

Access to certified training courses designed to build your Mac expertise.

20,000 Jamf Nation community members at your back — all ready to pitch in, answer questions, bounce ideas off, and help you be successful.