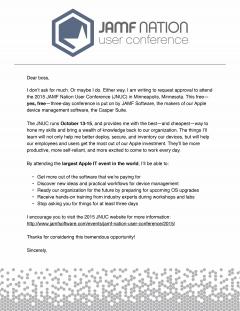 So you want to attend the 2015 JAMF Nation User Conference (JNUC), but have a skeptical boss? Breathe a sigh of relief because we've made it super easy for you to receive that coveted "Yes" you've been hoping for.
Simply print this letter, sign your name, and hand it over. Once your supervisor realizes it'd be foolish not to send you to the largest Apple IT event in the world, circle back and reserve your spot.
We look forward to seeing you in October and hearing about the look on your manager's face when their doubt turned into jubilation!
Download PDF