Today, companies increasingly rely on cloud services, including SaaS, PaaS, and IaaS applications to do business. Cloud applications, by design, allow access from any web browser, on any device, which creates security vulnerabilities as employees, students, contractors and partners can access critical company data on insecure devices - leaving an open door for attackers.
Wide-spread adoption of cloud services, BYOD, remote work and distance learning have made it necessary to identify the user behind the device and assess the security state of every device requesting access to cloud resources at the exact time of the request.
When organizations choose to connect Beyond Identity with Jamf, they get the most secure user authentication available, eliminate password requirements from the authentication flow and block unauthorized users and unsecured devices from accessing critical, organization-owned cloud resources, in real-time.
Jamf+Beyond Identity delivers contextual data via continuous analysis of all of the endpoints that your users are using, managed or not, assessing the risk and trustworthiness of each device and the user requesting access to critical cloud resources at the exact time of authentication.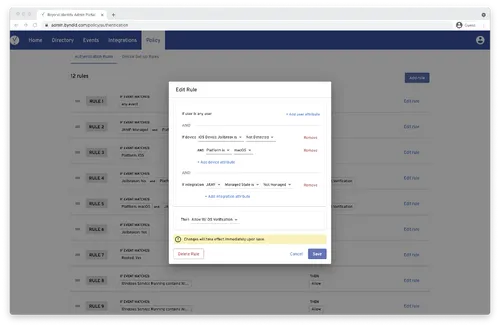 "With something like Beyond Identity, you can now start enforcing security hygiene at the very beginning [on every endpoint] without impacting the employee at all; it's seamless, as long as their system [and device] is secure." - Mario Duarte, VP of Security at Snowflake
Integrating Beyond Identity and Jamf means you can:
Eliminate credential-based attacks and lateral movement by removing passwords entirely from the authentication flow and, instead, verifying the identity of users by cryptographically binding identities to devices using the secure TPM hardware of users' existing devices.
Enforce adherence to security and compliance policies on all requesting devices with continuous risk assessments based on fine-grained user and device risk signals captured at the time of login from any device requesting access, whether Jamf managed or unmanaged.
Implement BYOD programs safely and at scale. Empower users with easy, self-serve device enrollment and management and enable productivity for the right people on trusted devices, while ensuring that all devices accessing company data are safe.
How the Beyond Identity and Jamf integration works
Beyond Identity has out-of-the-box integration with Jamf, utilizing a standard REST API that does not require any custom code.
Once integrated, organizations can easily invite users to self-enroll and set up their credentials in the hardware of their devices. Users can self-extend their authorized devices after enrollment to enjoy zero-friction, passwordless logins. This eliminates passwords to stop all credential-based attacks while reducing IT costs related to account lockouts and password resets.
Together, Jamf and Beyond Identity help security teams enforce risk-based policies to control authentication to cloud resources and achieve device trust — for managed and unmanaged endpoints. Moreover, with tamper-proof, device-bound identity and continuous authentication leveraging real-time risk signals, you are one step closer to achieving a Zero Trust security model for your workforce.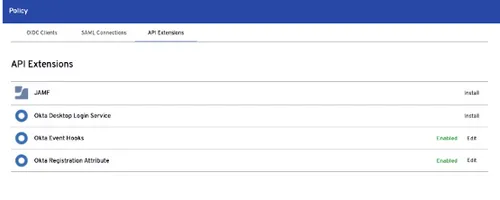 View this integration on the Jamf Marketplace