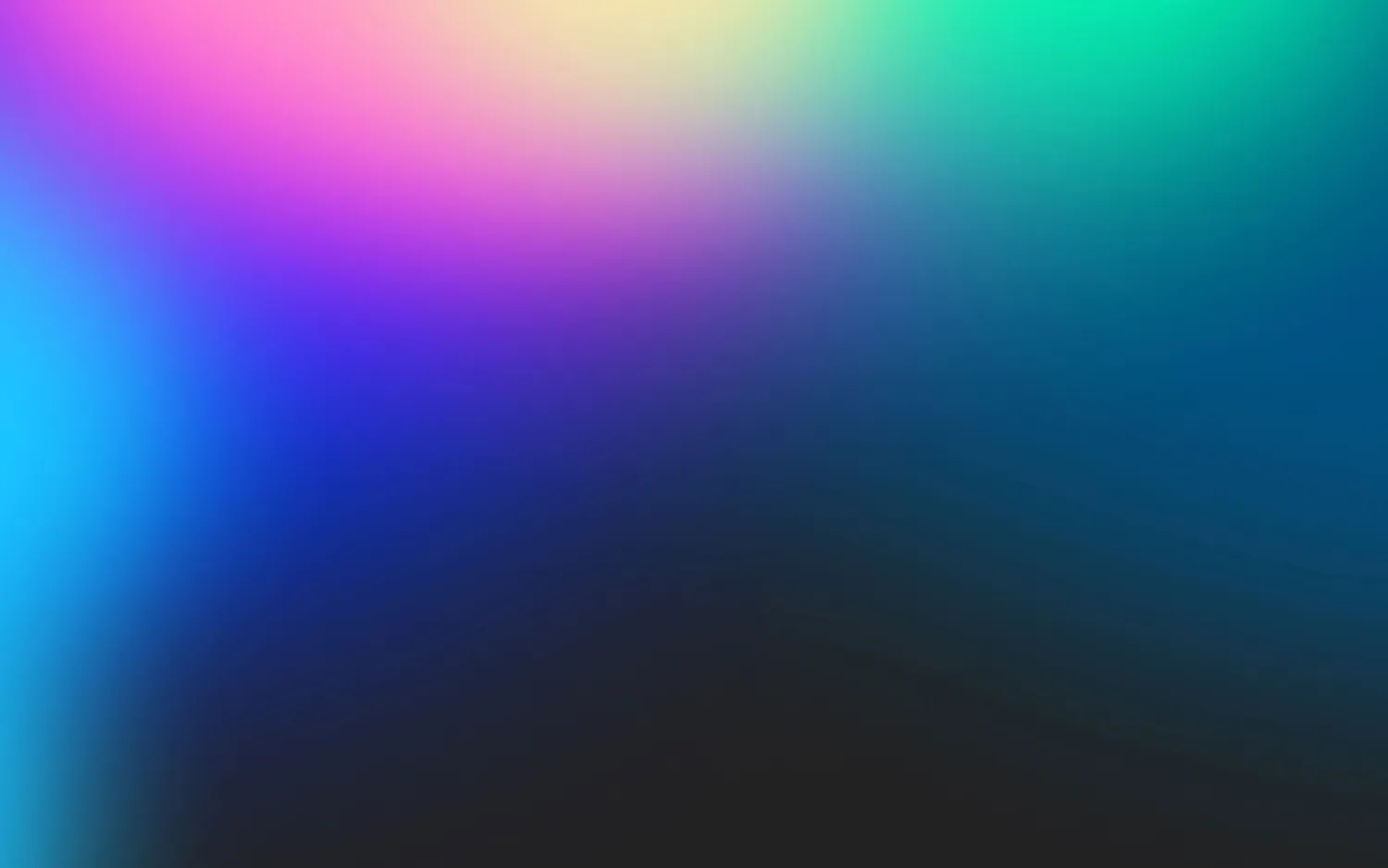 Jamf Protect

Apple Mobile and Mac endpoint protection

Endpoint security, threat defense and content filtering
Why Jamf Protect?
Mac endpoint security and mobile security management from a leader in Apple management
Apple builds one of the most secure out-of-the-box platforms on the market.
But hackers love a challenge, and Apple's rapid growth and adoption in the enterprise make Apple devices an appealing target.
Enhanced endpoint security for Mac
Jamf Protect enhances Apple's built-in security features by increasing visibility, preventions, controls and remediation capabilities.
Full support on release day
Upgrade your devices on your schedule, not ours. We use the Apple endpoint security API in macOS and other native frameworks across macOS and iOS to offer same-day support for the latest Apple software and hardware.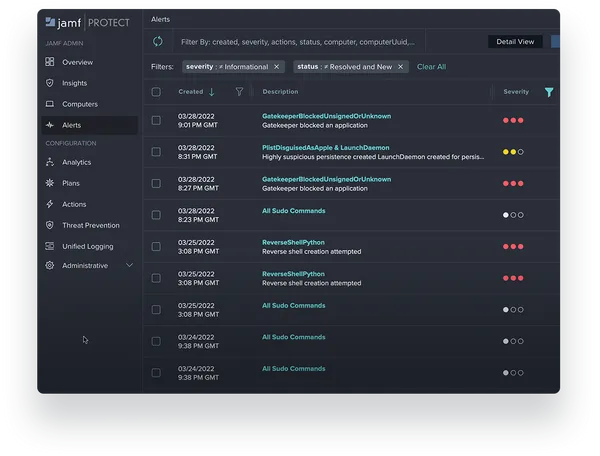 Detections and alerts
Real-time detection of malicious applications, scripts and user actions.
Jamf Protect's endpoint security for Mac adapts to your environment and minimizes risk for your users, endpoints and company data— flagging concerns across Mac and mobile devices.
Behavioral analytics identify suspicious or malicious activity.
Customized analytics adapt Jamf Protect's analytics to your unique needs.
Threat hunting allows you to hunt for threats that specifically target your environment.
The MITRE ATT&CK framework maps activity through core analytics.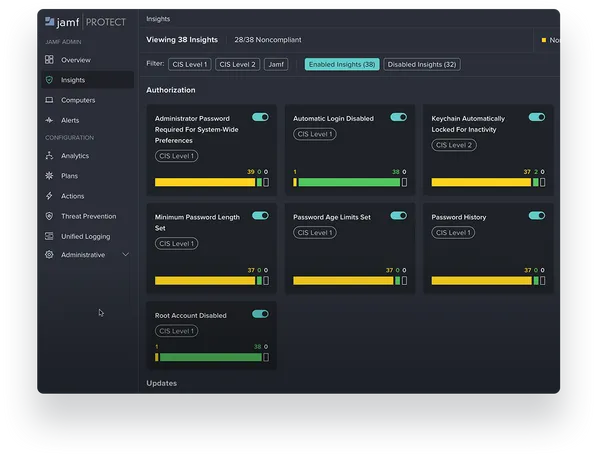 Threat prevention
Stop hackers in their tracks with endpoint security for Mac that goes beyond malware protection.
Jamf Protect not only quarantines known malware, adware and ransomware; it prevents some unknown threats from running. It also locks command and control (C2) traffic and risky domains.
This prevents zero-day phishing attacks and communication with malicious servers.
Modern Mac and mobile endpoint security
Each attack puts your company data at risk—layer security by protecting the user, the endpoint and your network activity.
Removable storage controls help prevent data loss.
Advanced machine learning and threat intelligence engine MI:RIAM identifies and prevents zero-day phishing attacks.
In-network protection blocks ransomware, cryptojacking and malicious domains in real time before they impact devices.
Real-time insights into risks allow IT to configure automated mitigating policy actions.
Online privacy safeguards with encryption protect against personal data collection and phishing.
Advanced privacy features ensure that security doesn't infringe on your users' personal privacy.
Device security protects all devices, whether company-owned or BYOD.
On-device content filtering uses Apple technology to filter content directly on supervised iOS and iPadOS devices.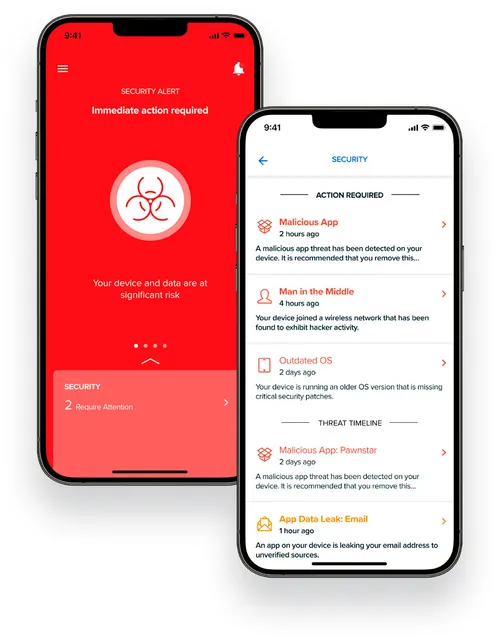 Monitor and remediate
Granular insights into endpoint activity
Jamf Protect's mobile security management and Mac endpoint protection offers:
Device health and compliance: receive immediate alerts when devices deviate from your OS hardening configurations.
macOS security tool visibility: at-a-glance activity and updates for built-in macOS security tools like XProtect, Gatekeeper and MRT.
Unified log forwarding: a customizable feed of Unified Log data from macOS to your system-of-record for visibility and compliance.
CIS benchmarks: enforce and monitor a secure baseline for adherence to CIS macOS benchmarks.
Device risk: monitor the overall threat flow and understand the risk posture of your entire fleet.
Powerful response: perform incident response manually or automate workflows with Jamf Pro: the tool that IT already uses to manage Mac.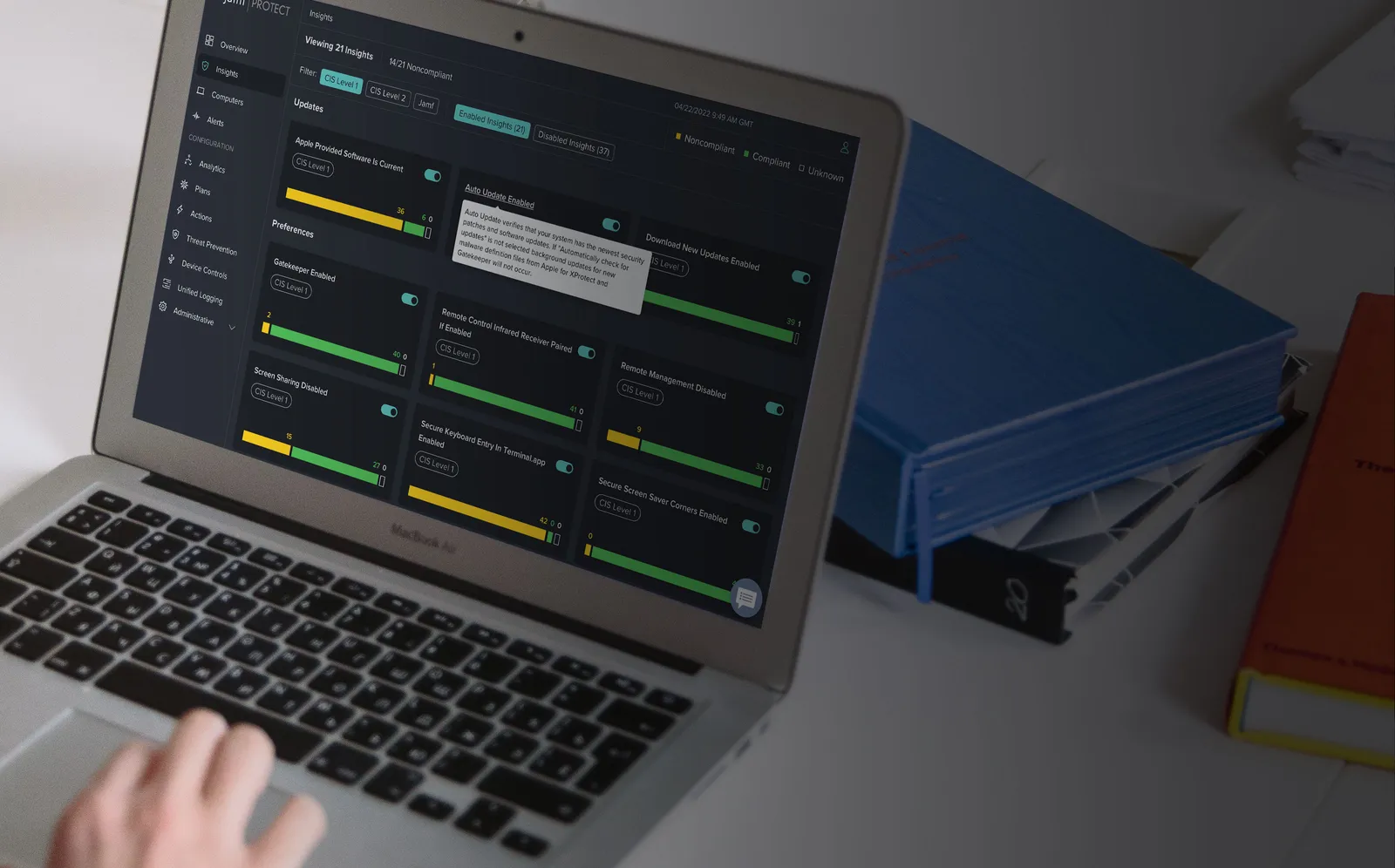 Security that's always on.
But never in the way.
Jamf Protect is built with native Apple frameworks to ensure CPU and battery life are not impacted while it is running.
Device-wide content filtering and web filtering helps enforce acceptable use policies and keeps your users away from risky sites and content. It also prevents them from accessing restricted content— across any app or browser.
Jamf Protect makes responding to incidents easy by isolating malicious software, eradicating unwanted files and getting devices back into a trusted state automatically, causing no downtime for the user.
Meet and maintain compliance requirements.
Real-time visibility: view compliance and endpoint telemetry activity data in Jamf Protect. Data analysis tools allow IT and security teams to immediately investigate, mitigate or remediate issues as needed.
Regulatory compliance: align your deployment with CIS benchmarking standards out-of-the-box.
App Insights: monitor for the presence of non-compliant or risky apps that could put organizational or personal data at risk.
App integrations
Level up with app integrations, API access and more.
Jamf Protect and Jamf Pro work with apps you already know and trust.
We minimize risk by reporting to your SIEM, managing your enterprise's authentication process through your Identity Provider (IdP) and displaying endpoint health data on customized dashboards.
Extend Protect with more capabilities.
Unlock powerful workflows by combining Jamf with third-party solutions from Jamf Marketplace. Extend real-time notifications to your smartphone or other mobile devices. Forward rich Apple endpoint data to your SIEM or EDR to provide the most comprehensive data visualization.
Offering powerful API access.
Integrate Jamf Protect into custom tools and workflows with a robust API that uses GraphQL. IT Admins and InfoSec can easily query content and make modifications to support your organization's unique needs.
Get started with Jamf.
Put the power of behavioral analysis to work.
Jamf Protect
Endpoint security, web threat prevention and content filtering.
$6
per device per month, billed annually. Device minimums apply.
$12
per device per year. Device minimums apply.
Schools may purchase Jamf Safe Internet for web threat prevention, which is not included in Jamf Protect's education pricing.