Jamf Careers
Technology powered. People driven.
As the situation around Coronavirus continues to evolve, we are working diligently to ensure the safety and health of our employees and job candidates. As an employer who puts people first, we have implemented work-from-home guidelines and resources for our entire global workforce to create a safe work environment. Our recruiting and hiring team is fully equipped to continue meeting our hiring needs. We are continuing to accept applications for open roles and are offering candidates remote interviews as well as remote onboarding. We remain ready to speak with you about career opportunities at Jamf!
Be your own self-starter.
We are a group of curious self-starters with a passion for making people's lives easier — paving the way for a better Apple experience in government organizations, hospitals, businesses and schools.
At Jamf, we put people first. We focus on the human before we focus on the technology. We do what's right for our customers, our employees and our communities.
We work in different ways, but we all have the same job. To help others make sense of technology so they can do theirs. Freeing teachers to educate, nurses to care and businesses to thrive.
Our global presence means we're now hiring for jobs all over the world.
We are a company full of free-thinkers, can-doers and problem-crushers.
At our core, Jamfs are good people looking to do the right thing. We take responsibility, we don't point fingers or pass blame. We take pride in making meaningful impact for tens of thousands of customers around the globe, all the while getting to work with the best Apple device management solution in the world. We trust in each other, and we work dang hard to protect that trust.
If you are a team player who knows there is no such thing as perfection – only improvement. If you're respectful and open to the many different ways we all live and work. If you are as enthusiastic about helping someone up after a loss as you are about high fiving them after a victory. If that is you, you may be a good fit for Jamf.
From the voice of our Jamfs
Diversity matters at Jamf.
All voices are critical to innovation and to the collaborative work that we do, so we constantly seek and value diverse perspectives. We also seek to learn, engage and grow, so that all of our Jamfs feel comfortable being their truest selves at work.
Our employee-led, global inclusion and diversity (I&D) steering committee and I&D resource groups help empower employees to make real, actionable differences at Jamf.
Our work in becoming more inclusive and diverse is never fully done. And we could use your help.
If you're ready to take the first step in your career at Jamf and put your stamp on a difference-making global technology company, we encourage you to apply.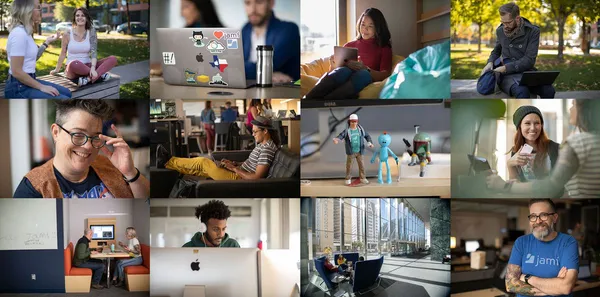 What makes Jamf a Great Place to Work?
Great people make Jamf great. We are very proud of our culture: where you are free to be yourself and free to work how you work best. We empower people to be their best selves and to do their best work. Thanks to all of our Jamfs for truly making this a great place to work!
Best Workplaces in Technology
Connect with us.
Connect with us on social media to learn more about what it means to be #OneJamf or drop us an email to inquire about our career opportunities.