Self Service

Go beyond app deployments — make resources available on demand.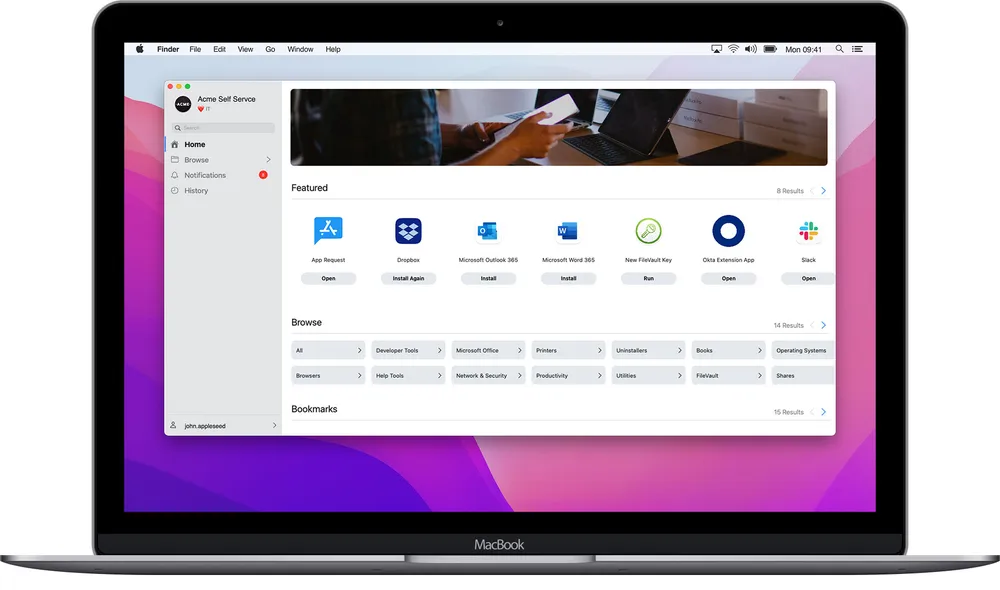 A productive user is a happy user (and vice-versa).
In today's user-centric world giving users what they want, when they want it is no longer a nice-to-have. It's the key to keeping them productive and to keeping them at your organization.
Jamf empowers you to offer users instant access to resources, content and trusted apps on Mac, iPhone and iPad with a single click — no help desk ticket needed. The Jamf Self Service catalog can be customized and branded by your organization or school. Fill it with curated on-demand apps, settings and resources that keep users moving forward and eliminates many routine tasks for IT.
Did we mention productivity? With zero-touch deployment, a curated self service catalog is waiting for your users the first time they power on their devices, allowing them to get to work immediately. Admins can also empower users, such as teachers, to request educational apps on behalf of the students in their classrooms with App Request for iPad. As an admin, you have granular control to determine who can submit app requests and who should approve the requested apps.
Customize your catalog with exactly what each user wants and needs.
Common resources in Self Service include:
Access to Apple App Store, in-house apps, Apple OS upgrades and third-party software updates
App requests for mobile devices. bookmarks and shortcuts
E-books, guides and videos
Printer mapping and drivers, email, VPN and other configurations
Allow or require Single Sign-on (SSO)
Basic maintenance, troubleshooting and system diagnostics
One catalog with endless benefits.
Benefits for IT
Reduce help desk tickets and decrease support costs
Automate common IT tasks like software updates and basic troubleshooting
Install Self Service app on any managed Apple device automatically
Personalize content based on department, language, user role, location and more: integrate with directory services and cloud identity
Brand Self Service for your organization by changing the name, icon, and image
Benefits for users
Instant access to a full-service, on-demand enterprise app store— full of curated resources, content and apps
Install organization-approved apps without help from IT
Quickly resolve common IT issues like printer installations or software updates
Receive real-time notifications for security enhancements and available services
Bookmark items like HR tools or internal resources for easy access to valuable company information
Self Service enhancements coming your way
GOAT
Read how the world's largest retailer of rare sneakers has leveraged Apple devices and Jamf to streamline IT and retail technology workflows — delivering the best experience possible to customers and employees.