Simplifying eSIM Cellular Plan Activation with Jamf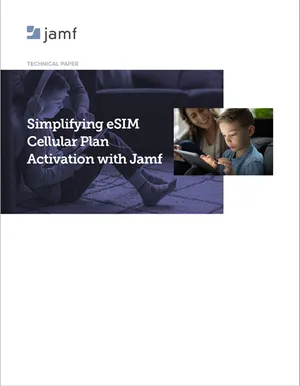 Traditionally, cellular devices included a slot where a small Subscriber Identity Module (SIM) card could be inserted. Most of the time, devices came with a card already installed by the carrier providing cell service for the device. Some modern devices are switching to an eSIM, a chip built into the device that serves the same function. eSIM takes up less space inside the device and is more flexible since it works with any carrier that supports the standard SIM cards — eliminating the need for a new card when setting up service with a new carrier. Jamf has made the process of leveraging eSIMs dramatically easier.
In this technical white paper, we discuss:
eSIMs
Activating eSIMs with Jamf School
Activating eSIMs with Jamf Pro
Bulk eSIM activation considerations
Download the PDF for full details or email us now to take advantage of this workflow.