Can offering employees their choice in work technology really make a positive impact on an organization? Commonly referred to as employee-choice or choose your own device (CYOD) programs, we were curious to find out if a technology model that worked so well Fortune 500 companies was applicable to the masses. So, to get to the bottom of the choice question, we surveyed more than 580 enterprise organizations around the world asking which technology trends they were leveraging, and if any impacted productivity, retention and the overall employee experience.
The results may surprise you.
The war on talent
According to Forbes, 2018 will be the year of the employee experience. Why? In order to remain competitive, organizations must attract and retain top talent. One way to do this is to create a better experience for employees; one they want to be a part of.
Device choice and the employee experience
Now, we're back to if choice is the answer to deliver that experience. You could almost hear the voices in the survey scream "Yes!"
We found that giving employees the ability to choose their work computer and/or mobile device has a significant impact on the employee experience. In fact, employees who are allowed to choose believe they are 68 percent more productive, 37 percent more creative and 35 percent more collaborative.
But wait, that's not all. Of those who are currently enjoying a technology-choice program, a whopping 77 percent say they're more likely to choose to work or stay at a company that offers device choice.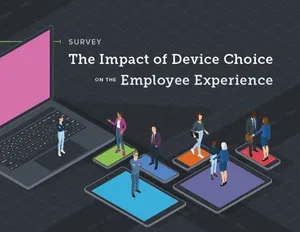 We've only scratched the surface of survey findings
Curious what type of devices employees choose when they get the choice? Or want to know if your organization should evaluate CYOD? Download the full survey report for answers to these and many more questions!
Jamf completed a global research study of both Jamf customers and organizations that do not currently use Jamf to determine the impact of giving employees a choice in work technology. Jamf surveyed 580 employees across commercial organizations of all sizes. The majority of respondents (58%) came from organizations with 500+ employees. 73% of survey respondents reside in North America, 17% in Europe, 4% in Asia, 5% Australia/NZ and <1% reside in Latin America or Africa.