In 2022 Jamf celebrated 20 years of helping organizations succeed with Apple, serving more than 62,000 customers world-wide.
Over the past two decades Jamf has grown from an innovative IT management solution birthed in a college computer lab, to the recognized standard in Apple Enterprise Management, and the home base of over 2,500 employees around the globe.
But our most exciting accomplishment to date is still the one closest to home: how Jamf creates an awesome workplace we're happy to be in and proud to call our own.
While we have lots of positive stats to share - from job satisfaction surveys, to workplace awards and impressive retention rates – the list of reasons why jobs at Jamf are great encompasses a whole lot more than numbers on a spreadsheet.
Read on to learn why a Jamf career might just be your dream job.
Work how you work best
1. Choice-based office model: You can choose to work at one of our worldwide office locations for community, collaboration, and amenities you can't find elsewhere, connect with Jamfs remotely, or find the blend that works best for you.
2. WFH stipend –Jamf provides all regular employees a generous work from home (WFH) stipend to help you set up a comfortable, productive home office environment.
We believe in work/life balance
In addition to a generous selection of medical, dental, vision, disability and retirement benefits, Jamf offers:
3. Volunteer time off: We believe in the power of giving back, so each employee receives 24 hours of volunteer time per calendar year in addition to generous paid time off.
4. Jamf Cares Day: Take an additional day off just for you: Above and beyond PTO and VTO, Jamf offers a yearly "Jamf Cares" day to use as, and when, you need it.
5. Mental health benefits: Employee Assistance Program (EAP) offers a wide range of services designed to help employees and their families manage the challenge of everyday life events and situations. We also offer access to free online therapy services.
6. Family planning services – Comprehensive fertility, maternity and parental benefits including additional benefits for LGBTQ+ families.
We care about each other & our communities
7. Core values of selflessness & relentless self-improvement: We share a selfless devotion to doing the right thing, relentless in our search for self-improvement. Bottom line: we believe that technology should work for the betterment of humanity.
8. Community giving: Jamf not only encourage employees to get involved in their communities, we back them up: Jamf Nation Global Foundation (JNGF) contributes generous donations of time and money, focused on the organizations and causes that align with Jamf's core values.
Bring your whole self to work
9. Be yourself: We encourage you to simply be you. We value the perspectives and ideas our differences bring to the table, and the vibrant blend of cultures, backgrounds and experiences that make up our diverse workforce.
10. We are #OneJamf: Our teams at Jamf are made up of over 2,500 Jamfs worldwide, but our commitment is to each other - proudly working as one no matter where we are in the world.
11. Employee Resource Groups (ERGs): Our ERGs educate, drive awareness, and empower employees to create an environment that embraces and celebrates unique perspectives and ideas, with ERGs including Women@Jamf, Families@jamf, Accessibility@Jamf, Shades of Jamf, and Proud@Jamf.
12. P.R.O.M.: Our internal events team – (Party, Recreation, and Office Morale) committee – keeps our hybrid workforce connected with both in-person and virtual events including happy hours, trivia games, talent shows, photo contests, magic shows, arts & crafts and more.
13. Coffee buddy meetups: The workday isn't all about projects - Jamf encourages casual get-togethers. From the "Bacon & Burritos Club" to new hire coffee chats, fellow Jamfs are people you not only enjoy working with, but want to get to know better.
Share in success
14. Stock options: Jamf's Employee Stock Purchase Plan (ESPP) offers an opportunity for employees to purchase stock in Jamf, with Restricted Stock Units (RSUs) also granted in recognition of employee contributions.
15. Employee tech packages: Love Apple devices? Us too! Every new hire is provided with brand new Apple equipment, from MacBooks to iPads, iPhones to Apple Watches.
16. Weekly Jamf Report: Jamf hosts a company-wide virtual meeting every week, to keep all Jamfs informed, connected and up-to-date on all things Jamf.
17. Swag: When you're happy in your work, you love to show it - Jamf offers a great selection of quality swag from our own internal store, including choice of gifts for new hires, special events, and branded Apple merch like earbuds.
Don't just take our word for it: Receipts
18. Best workplace awards: In 2022, Jamf was named a Fortune 100 Great Place to Work® and Best Workplaces in Technology™, in 2021 as a Best Workplaces for Women™, Best Workplaces in Technology™, Best Workplaces for Millennials™ and Best Workplaces for Parents™ and PEOPLE Companies That Care®.
19. Low turnover: Jamf enjoys a 90% employee retention rate, with 90% of our employees agreeing that Jamf is a great place to work.
20. Great culture: Employee survey responses- 96% say when you join the company you are made to feel welcome; 95% say people care about each other, 94% believe our facilities contribute to a good working environment, 94% say they're able to take time off from work when necessary, and 94% feel good about the ways we contribute to the community.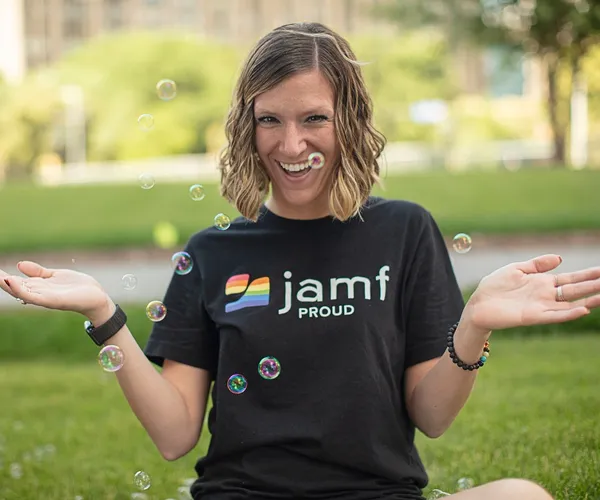 "I love that Jamf truly encourages us to bring our authentic selves to work every day. We are not a cookie cutter company and they do not expect their employees to be either. Everyone is very accepting of one another and we appreciate and celebrate our differences. We encourage, appreciate, and support one another. I have never worked with such a hard-working, fun, and supportive team in my life." – Lacey, Jamf Account Specialist
Sound like the kind of place you'd like to work? Check out our career opportunities below.