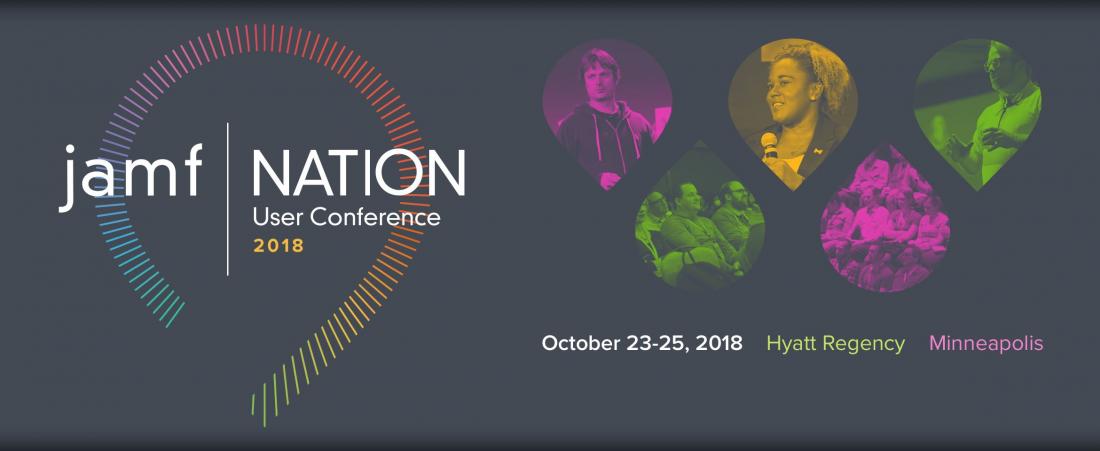 Jamf Nation

User Conference

2018
Overview
The world's largest rally of Apple IT administrators
For eight years, Apple IT administrators from around the world have rallied at the Jamf Nation User Conference (JNUC) for community presentations, deep-dive education sessions and expert product insights. Focusing on new and better ways to manage Apple devices with the purpose of empowering people, transforming business processes and making IT life easier, this year's event will be bigger and better at the Hyatt Regency in downtown Minneapolis, MN.
What to expect?
JNUC 2018 speakers, sessions and schedules are still being solidified, but attendees can expect:
Product demo and preview sessions from Jamf experts to help organizations prepare for new Jamf functionality and products.
In-depth tech sessions to provide IT with advanced workflows and management techniques for large Mac rollouts, 1-to-1 and Shared iPad programs, and other common device programs.
Dedicated sessions focused on Apple services such as the Device Enrollment Program (DEP), Volume Purchase Program (VPP) and Apple School and Business Manager to help IT drive higher efficiency and user empowerment.
Customer-led sessions to provide first-hand experiences and expert insight into successful implementations and ongoing management.
An on-site "CX Bar" to give attendees a chance to have face time with their customer experience team and get even more out of their specific implementation.
Breakfast and lunch provided throughout the conference, with food, drinks and games at the legendary Jamf Nation Party
Why should you attend?
As the largest gathering of Apple system administrators in the world, the JNUC provides an ideal venue to:
Solve IT problems that impact your organization.
Get ideas that help you take your investment in Jamf Pro and Apple to a new level.
Learn about new and future Jamf Pro features to empower your users and make your lives easier.
Share real-life experiences, gain unexpected insights and connect with your Jamf Nation peers.
Meet and mingle with Jamf product, implementation and support experts.
So, whether you're a new or advanced Jamf Pro user, you'll walk away from the JNUC with a pep in your step, a contact list full of new names, and a ton of actionable knowledge to help you and your organization work smarter.
What do previous attendees think about JNUC?
"JNUC 2017 is definitely one of the tech highlights of my life so far. I truly felt empty when it was over."
"JNUC is undoubtedly one of the very best platforms for any Apple admin, worldwide. In many aspects, JNUC supersedes WWDC and provides wider opportunity to interact with industry experts and peers."
"…I felt welcomed in this fantastic community. I cannot wait until next year!"
"I was impressed with the quality and variety of sessions offered and even have a list of sessions I could not attend to view online later. Well done!"
Sign me up
Registration includes three days of full access to sessions, networking events and meals (breakfast and lunch).​​​
Just In Time Registration is $1,199 (now through October 25)
In addition, take advantage of the Buy 3, Get 1 Free promotion running now through JNUC.

Space is limited. Reserve your spot today.
Need help convincing your manager to let you attend? We've got you covered. Use this letter to ensure you're not missing out on any of the action.
Questions? Visit our FAQ page.