Jamf Nation User Conference 2020
Travel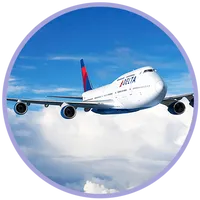 Air Transportation
Conveniently located just 10 minutes from downtown San Diego, the San Diego International Airport is managed by the San Diego County Regional Airport Authority and receives more than 16 million passengers a year. It is serviced by 22 major and commuter airlines including non-stop flights from Mexico, Canada, Japan and the UK. The airport terminals are easy to navigate and offer gourmet food and drink from local restaurants.
Visit the SAN airport website to learn more.
Ground Transportation
San Diego offers many modes of public transportation providing travelers with economical and eco-friendly options to explore the region. Get your transit pass loaded onto your Compass Card at any trolley station ticket machine, or download Compass Cloud, the free mobile ticketing app where you can purchase 1-day and 30-day passes from your smartphone for immediate use anytime, anywhere.
BUSES
There are plenty of routes that offer service throughout San Diego including MTS Bus, Rapid, Rapid Express and NCTD BREEZE. Be sure to check schedules and plan your routes in advance. For maps and trip planning for San Diego's South County, visit sdmts.com or call (619) 233-3004. For bus schedules and information for San Diego's North County, visit GoNCTD.com.
SHUTTLES
San Diego shuttle services are a convenient way to navigate the city and are ideal for airport pick-ups and drop-offs, as well as going to and from the convention center and cruise ship terminal. There are also local shuttle companies that offer sightseeing tours, daily excursions, and transportation for weddings and private parties.
Shuttle service from the airport is available at the transportation plazas across from the San Diego Airport Terminals 1 and 2, and curbside from the Commuter Terminal.
TAXI SERVICES
Taxicab stands are located at the airport, most hotels, attractions and shopping centers. Base fare and rates are displayed on the meter and include a flag drop charge plus a per-mile and/or a per-hour charge. If you are traveling from the airport, they will also add $1.50 to your final total. Lyft and Uber are also well established in San Diego and now have access to service San Diego's airport.
PEDICABS & CARRIAGES
Pedicabs and horse-drawn carriages are popular ways to travel along downtown's waterfront and in the Gaslamp Quarter. Tours are readily available as well, providing a unique way to explore San Diego's downtown communities.
San Diego
Enhance your conference experience by exploring the city it's hosted in. Whether you're visiting from afar or just need a reminder of what San Diego has to offer, check out the map to find restaurants, breweries and attractions
Visit the San Diego tourism website to learn more.
Avoid the FOMO!
Don't miss out on the fun and sun in San Diego next September. Register for JNUC 2020 today!