Apple TV Management: Moving Business Forward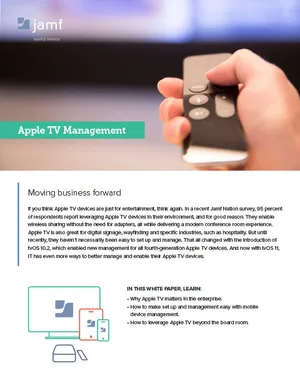 If you think Apple TV devices are just for entertainment, think again. In a recent Jamf Nation survey, 95 percent of respondents report leveraging Apple TV devices in their environment, and for good reason. They enable wireless sharing without the need for adapters, all while delivering a modern conference room experience. Apple TV is also great for digital signage, wayfinding and specific industries, such as hospitality. But until recently, they haven't necessarily been easy to set up and manage. That all changed with tvOS 10.2, which recently became available with all fourth-generation Apple TV devices. And now with tvOS 11, IT has even more ways to better manage and enable their Apple TV devices.
Download this PDF to learn:
Why Apple TV matters in the enterprise.
How to make set up and management easy with mobile device management.
How to leverage Apple TV beyond the board room.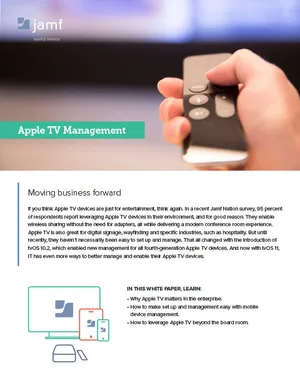 Please fill out this form to download Apple TV Management: Moving Business Forward
Download PDF