Drive student success and personalize learning
Benefit from the power of Apple in the classroom
Apple technologies have forever transformed the way teachers teach and students learn. And whether used in the Substitution Augmentation Modification Redefinition (SAMR) or TPACK models, or to simply tailor the educational experience for each student, Mac and iPad have been the devices that educators consistently demand most.
Read on for examples of how schools are bringing the power of Apple to the classroom.
Fulfilling the promise of what technology can do
The School District of La Crosse, Wisconsin is one of many districts that use Apple because, in their words, "It doesn't make sense not to teach in a 21st century model."
Watch why and how La Crosse Schools use iPad.
The computer and devices (Apple) produces have been mainstays in K-12 education for decades. Education and Apple have gone hand-in-hand for so long and in so many different ways.

EducationWorld.com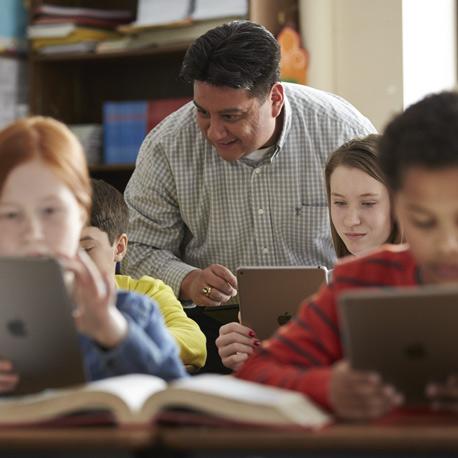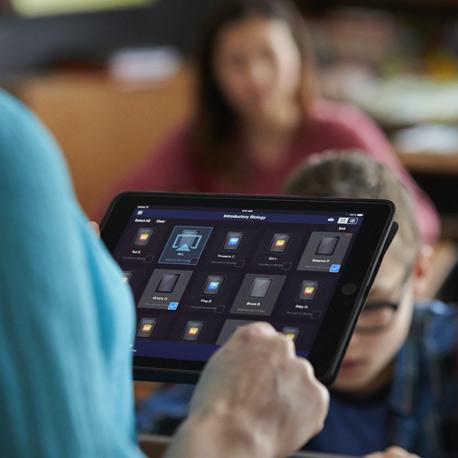 Improve classroom transitions and regain valuable instruction time
Make every minute count with focused learning.
When students are active and engaged, life-long learners are produced. Key to this quest, are iPads, a modern way for teachers to create new workflows and improve student engagement.
Jamf Focus—a free iOS app and part of Jamf Pro—uses Apple's Guided Access technology to let teachers instantly focus students to a single app or Safari webpage via their own iPad. With just a tap or two, they can send a brief message to each iPad to help with transitions or "pencils down" moments.
The result is shorter transitions, enhanced classroom management, and more time for students to be engaged in learning.
Turn iPad into the ultimate testing tool
Conduct secure assessments and routine quizzes.
Apple recently added new options that let IT disable keyboard features on iPad during testing — including dictionary, quick type, auto-correction, and spell check. When these features are combined with Jamf Focus and the other broad Apple device management capabilities of Jamf Pro, schools can ensure safe and compliant standardized testing on iPad.
As standardized testing on iPad becomes more prevalent, test taking can become more interactive, engaging, and effective for future generations of students.
Information is at kids' fingertips, and we just need to focus them on how to use that information. If we do that, I think sky's the limit for students.

Robb Trenda

Teacher & Technology Integration Specialist, Hopkins Public Schools
Ready to enhance the classroom experience?