Hub in Afghanistan provides young women with technical opportunities
The newest to open: the Bayat-MATTER Innovation Hub (MIH) in Kabul, Afghanistan. The Bayat-MATTER Innovation Hub is a collaboration with the Bayat Foundation, Afghanistan's largest humanitarian organization working towards improving the lives of Afghan women.
The opening of the Bayat-MATTER Innovation Hub will provide opportunities for young women in Afghanistan to receive an education beyond the government-mandated curriculum.
"Through this partnership," says Quenton Marty, President, MATTER, "we look forward to bringing new opportunities for Afghan girls to be leaders in their community and country."
The Innovation Hubs currently serve students in the lower elementary grades; however, the new MIH in Kabul will serve students through high school. The aim is to allow a student to take an intensive coding course, to learn to design apps, make music or art and get a job -- without needing to relocate.
One goal of the MATTER Innovation Hubs around the globe is to increase equity for women."The majority of our facilitators are women," says Kelly Watkins Conrad, Field Sales Engineer III, Jamf. "We strongly believe that putting women in charge of these facilities will help to challenge traditional gender roles. Young girls seeing a woman facilitator in an innovation hub is setting the example that they can also be in the STEM field, and that it's accepted and that they belong there."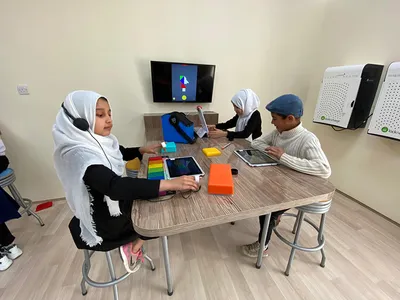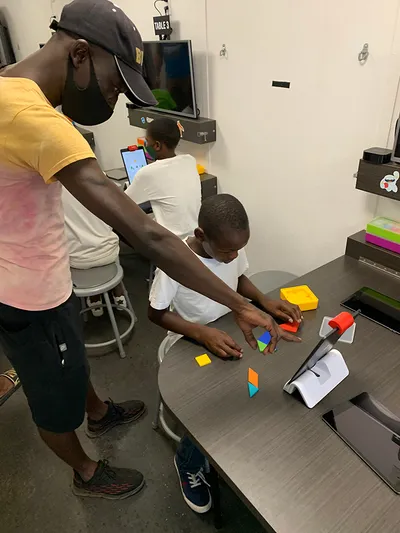 Zimbabwe locations receive new technology for making music
With the help of Jamf and a match from the Jamf Foundation, Zimbabwe MATTER Innovation Hubs now have access to twenty sets of Specdrum rings, tech designed for making music by striking any surface, and some locations are learning to code with drones.
Inner-city Minneapolis Hub provides underserved youth with access to cutting-edge technology
Also open this June: a stationary and a mobile Innovation Hub in collaboration with Urban Ventures, in Phillips: one of Minneapolis' lowest-income neighborhoods. Jamf interns at Urban Venture's Cristo Rey school helped to build these hubs, one of which will benefit their classmates and the other of which will travel to other schools and to community centers.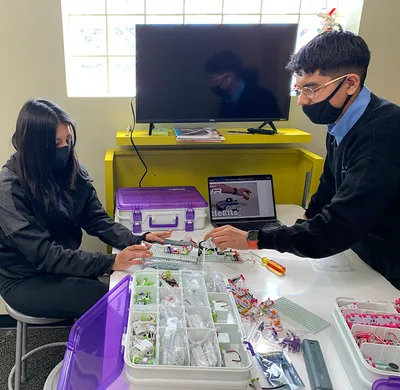 Innovation Hubs impact entire communities
This partnership shows us one of the most important aspects of our Innovation Hubs: much of the time, Innovation Hubs aid students in learning and teachers in teaching, but they also enrich others in the community and help provide for career opportunities.
The interns learned a wide variety of skills, from taking the Jamf 100 Course to learning how to be Mac admins using Jamf School. In order to do the work, students learned coding and logic, set up devices and even did the wiring to connect the iPads. This will send them out into the community with a solid grounding in on-demand skills.
MATTER Innovation Hubs in other countries impact the greater communities as well: teachers all over have access to the Hub for teaching or for their own technological education. For instance, in Zimbabwe and Afghanistan teachers are earning Apple Teacher Certificates, which equip them with in-demand skills that open up future career possibilities.
The work behind the Innovation Hubs
"An enormous amount of work goes on behind the scenes to bring these Innovation Hubs to life," says Dave "Salty" Saltmarsh, Global Education Strategist, Jamf. "Partners like MATTER, Urban Ventures, the Jamf Foundation and the Bayat Foundation are essential in order to create new opportunities and get technology into the hands of students. These Hubs," he added, "give students access to powerful Apple products and app-based STEM/STEAM curriculum to help them develop new skill sets in critical thinking, problem-solving, collaboration and creativity."
Jamf School: the best technology for organizing Innovation Hubs
Kelly Watkins Conrad points out: "Some of the classes have 40 students or more per classroom. Being able to really stretch the technology as much as possible is super important so that every kid is able to use the device."
Using 'locations' in Jamf School allows local managers to access their own Jamf instances, which stretches the technology even further.
Jamf School's ability to use photos of the students so that their pictures appear when they are logging in also allows for ease of use: "Not all kids know how to use an iPad, says Conrad, "and not all of the kids at the Matter Innovation Hubs speak English. Having something recognizable like their picture to start their experience is so important. It not only builds confidence but also helps with equity within the Matter Innovation Hub space." In addition, students with identical names can be sure they are logging into their own account rather than others.
From learning Apple admin skills and coding to learning new teaching strategies, students and teachers around the globe are gaining valuable skills and a newfound love of and familiarity with Apple technologies. We can't wait to see what our Jamfs, our teachers and our students do next!