Apple device setup in minutes.
No need to pinch yourself.
The dream is real with Jamf Now
Trying to configure your Apple devices without a mobile device management (MDM) solution? Don't. There's a better way, and it starts with Jamf Now. By using this intuitive, yet powerful interface, you can remotely configure settings on all of your iPad, iPhone, Mac and Apple TV devices quickly and consistently. You can even set up custom configurations within the Jamf Now Plus plan.
Apple device setup – kick the hassle to the curb.
Setup is a cinch with Jamf Now. From enrollment to distribution, eliminate the tedious steps to create a streamlined process for users. Enjoy the speed and ease of MDM setup while giving your employees exactly what they need to execute a job well done. It's time to bask in the goodness of simplicity.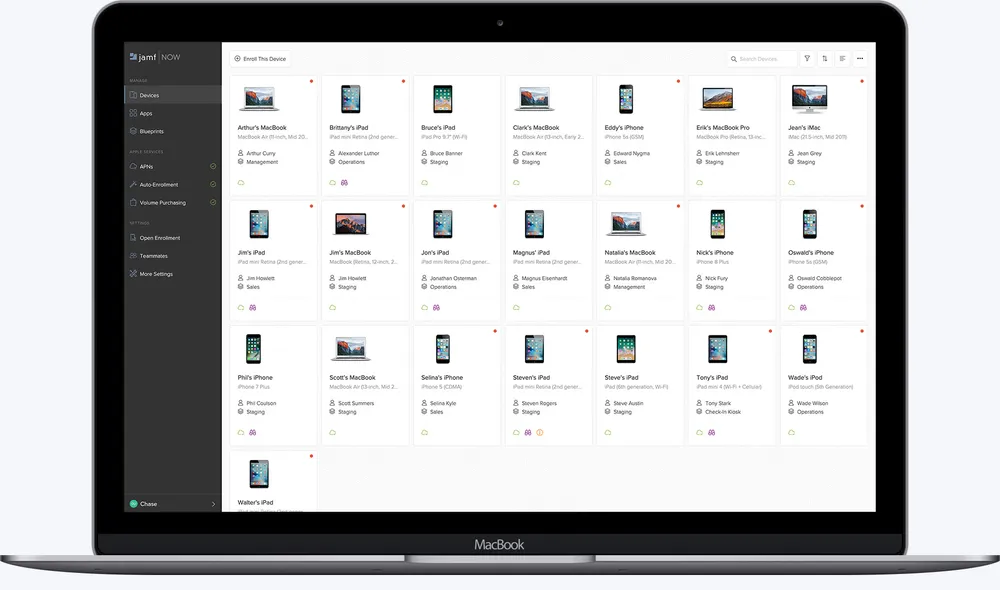 Blueprints
Start with a Blueprint to customize a group of devices, deploying specific apps, restrictions and settings as you see fit. Set up additional Blueprints to support other devices with different needs. It's efficiency at its best.
User enrollment
Enroll your Apple devices into your Jamf Now account with ease. Send users to your organization's enrollment URL, and they'll be guided through the process. If you've created multiple Blueprints, no problem. Users can select the appropriate configuration.
No-touch enrollment
Take deployment to the next level. Do it like a "pro" with Apple's Automated MDM Enrollment, part of Apple Business Manager. Using Jamf Now together with zero-touch deployment, gets users up and running in minutes with a fully configured device — without ever touching it!
Email configuration
Automatically configure company email accounts on all of your Apple devices. Jamf Now supports Microsoft Exchange, Google Mail, Yahoo! Mail, and any IMAP or POP mail accounts.
Wi-Fi settings
Set up your devices to automatically join your secure wireless networks. Jamf Now supports WEP, WPA, WPA2 and WPA3 security. There's no limit to the number of networks you can add. And, forget about remembering a million Wi-Fi passwords. Your employees will thank you.
App distribution
Automatically install apps on all of your devices. Enroll with Apple's Volume Purchasing, part of Apple Business Manager, to buy apps and distribute them over the air – no Apple ID required. Reclaim and reassign apps to new employees, keeping your investment working for you. Additionally, install apps not available in the App Store like Adobe's Creative Suite and Google Chrome with the Jamf Now Plus plan.
Don't just take our word for it.
Manage your first three devices for free. Add more starting at just $2/device/month.
Take Jamf Now for a test drive. See the power of a cloud-based MDM solution.