Secure Communication and Improve Clinical Workflow with iPhone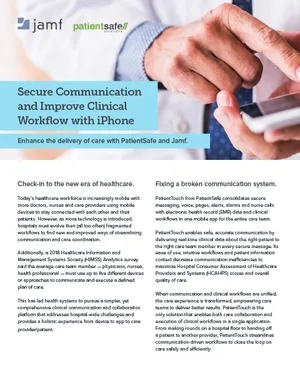 Enhance the delivery of care with PatientSafe and Jamf Pro.
Today's healthcare workforce is increasingly mobile with more doctors, nurses and care providers using mobile devices to stay connected with each other and their patients. However, as more technology is introduced, hospitals must evolve their (all too often) fragmented workflows to find new and improved ways of streamlining communication and care coordination. PatientSafe and Jamf are here to help.
Read this PDF to learn how PatientSafe and Jamf can:
Save 60 minutes on care coordination and documentation per nurse shift
Save nearly 5 minutes per time connecting with the right care team member
Improve healthcare response times by 86%
Reduce care interruptions by 67%