As the adoption rate of Apple devices continues to increase within higher education, the demands on IT continue to be more abundant and frequent. Faculty and students are embracing technology now more than ever, and expect to be able to access resources 24/7, regardless of location. So how can IT meet these seemingly constant demands?
One solution is to create a customizable app catalog for users, pre-populated with the content they need. App catalogs ensure that content is always ready and available (even before users know they need it!)
How do app catalogs work?
App catalogs allow IT to place content and configurations in a central location, where users can access on demand — all without submitting a help ticket. With an app catalog like Jamf Self Service, IT is able to provide:
Access to App Store, B2B, in-house apps and third-party software
Email, VPN and other configurations
E-books, guides and videos
Bookmarks and shortcuts
Printer mapping and drivers
Help desk ticketing and hardware requests
Password resets and compliance information
Basic maintenance and system diagnostics
Software and OS upgrades
Why would an app catalog be helpful?
Often, many of the help desk tickets IT receives are for software that users need on their devices immediately or they're having issues with their printers. When IT leverages an app catalog, they can address these common requests by placing highly desirable apps and printer resources in the app catalog. So when users need something, they can check Self Service before making a call for help. This allows IT to dedicate more time to strategic initiatives and less time on mundane tasks.
Tailored to each university
When you use Jamf Self Service, your university is able to completely customize the app catalog, making it look like it came directly from your university, and not a third-party tool. IT is able to add their own banner, logo and dock icon right into Self Service. This level of customization helps boost user adoption and allows them to fully trust the app catalog, because it's university approved.
Whether you're looking to provide your university's users with better access to the resources they need, encourage mass software updates or simply decrease the number of help desk tickets, creating your own university-branded app catalog with Jamf Self Service can help you reach your goals.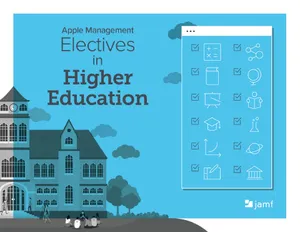 Not convinced? Hear how other universities are thriving after building their own customizable app catalog, and discover the incredible ways they're empowering IT and users with Apple technology.