What's new in Jamf Teacher?
The Jamf Teacher app for Jamf School offers IT the ability to save time in their iPad and Mac management by streamlining workflows and allowing teachers simple tools where devices are deployed, including:
Behavior and classroom management
Differentiation
Assessment
Lesson planning
Supporting student needs
The app has historically focused on the classroom management of iOS and iPadOS devices. However, with this new update, Jamf extends Jamf Teacher's key capabilities of Remote Class, Raise Hand, and messaging to student-issued Mac devices. Teachers can now also use the communication features of Jamf Teacher to communicate with students who are using a Mac. The teacher can start a remote class and students can raise their hands and message within the app between teacher and student, regardless of whether the students are on an iPad or Mac.
Bringing this functionality to both iPad and Mac devices offers administrators the ability to streamline their entire Apple ecosystem. This not only supports workflows in the classroom but also the hybrid learning model with the ability to start a remote lesson when students are also on-site.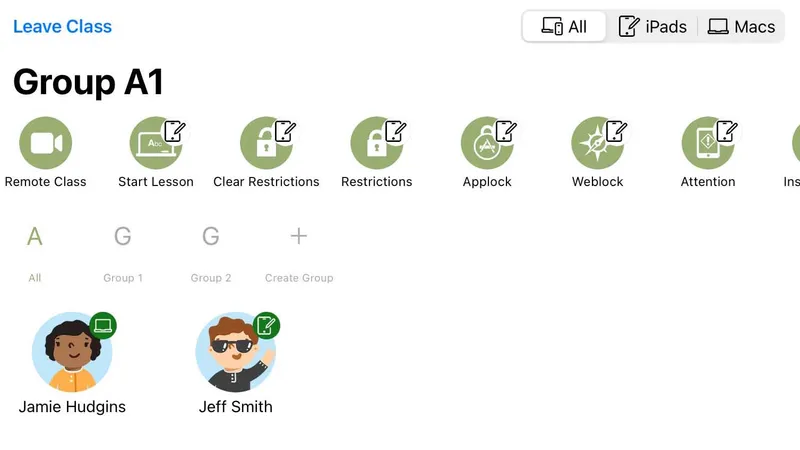 Teachers can now see which device type students are using by viewing students in a class. When managing students in classes using Jamf Teacher, actions that cannot be taken on a particular device type are grey and will not be selectable. The update also includes enhancements to the messaging capability; when teachers tap a message notification, it now opens the message directly in Jamf Teacher. Now, with students having the option of being on both iPad or Mac, teachers can use filters to display options for all devices in a class.
For more details about the updates to Jamf Teacher, check out the release history.
Not already a Jamf customer?
Put these features to the test with a free trial of Jamf School.