To date, Jamf Setup and Jamf Reset put power in the end users' hands — letting them easily provision a device in a customized way for their purpose, and easily erase it when done — but as mobility strategies proliferate through our markets, we identified opportunities to evolve and improve not only the end-user experience but also IT productivity.
We sought out answers to questions like:
How can we ensure that mobile frontline users are truly the most productive?
How can IT keep track of which user has which device from a shared pool?
And, how can IT remove obstacles that preclude efficient device access, use and handoff for shared iPad and iPhone deployments?
With Single Login, your organization can empower users and IT in four core ways:
Streamlining the end-user workflow
Enhancing security & management
Enabling cross-app single sign-on (SSO)
Simplifying device transitions
This means that a user's cloud-identity credentials can be used to instantly provision and de-provision an iOS or iPadOS device for their individual needs — all while supporting a native single sign-on workflow, wirelessly and without needing IT action.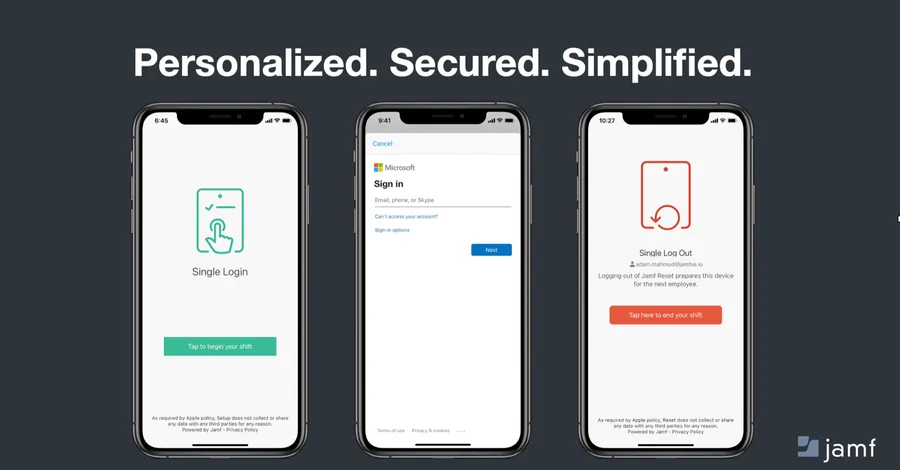 From frontline workers like nurses, relying on shared devices to manage patients and care, to other industries like education or transportation, the impact of this workflow will be directly seen and felt in the everyday interactions that make or break your employees' — be it end users or IT— experience.
Ready to see what Single Login can do for you?
Check out our workflow resources and video.
Learn More
The Jamf Setup and Jamf Reset apps require Jamf Pro and are available today on the App Store. This workflow also relies on preview technology from Microsoft.
Get Jamf Pro