Jamf Pro 9.101 is here and provides zero-day support for macOS High Sierra, iOS 11 and tvOS 11. Jamf continues its proud history of offering immediate support of Apple's new operating systems. IT admins can start upgrading their Jamf Pro server and prepare for any new configurations and policies they'd like to deploy. In case you missed all the beta buzz this summer, here's a quick summary of what's new:
macOS High Sierra: Available on September 25
The latest iteration of the Mac operating system is all about refinement and performance. Similar to Snow Leopard or Mountain Lion, macOS High Sierra improves upon Sierra mainly by adding performance under the hood. A new file system is the crowning achievement and brings some amazing features for end users like space sharing, snapshots and cloning.
For IT admins, this also brings up new challenges when it comes to imaging. We could spend this entire blog talking about APFS but instead, get all of your Apple File System (APFS) questions answered in our new white paper.
However, there's more than just the new file system. Here's some other great things Jamf Pro customers can take advantage of:
Zero-touch provisioning of Mac devices with APFS
Cisco Fast Lane quality of service (QoS) support for apps
New security settings and configurations
New restrictions, including the ability to defer software updates for up to 90 days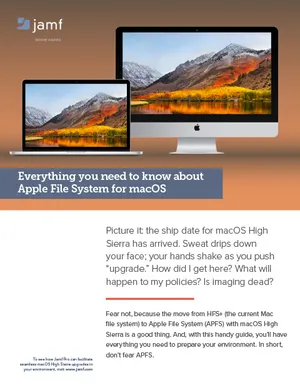 iOS 11: Available on September 19
Apple's mobile operating system keeps getting better, and this year they are especially focused on the iPad. End users will be able to take advantage of a new dock, a vastly improved multi-tasking system, access to a file browser, and much more. Apple is truly enabling corporate use for iPad. Of course when organizations use iPad, you need to use mobile device management (MDM) to configure settings and deploy apps. In iOS 11, Apple continues to refine the MDM protocols, which Jamf Pro 9.101 will be able to use. Here's what's new:
An MDM command to upgrade non-Device Enrollment Program (DEP) supervised devices to iOS 11
New restrictions, including AirPrint, manual VPN settings and systems app deletion
New method for enrolling iOS 11 devices into DEP
tvOS 11: Available on September 19
Ever since MDM was introduced to tvOS, Apple TV devices have become a popular solution for digital signs and wirelessly sharing content on a large screen. Industries like healthcare and hospitality are redefining what it means to have a smart display in a room. And, of course, Apple TV has been embraced by education institutions as a great solution for students to share their schoolwork. Apple is building on top of the MDM foundation laid in the spring by adding a large number of features:
Defining Home screen layout on an Apple TV
Showing or hiding specific tvOS apps
Restricting tvOS media content and ability to modify device name
Setting passwords for Apple TV devices to share automatically to specific iPads
Preparing for your upgrades
So much software and so little time! Thankfully, we've prepared some great content to help you get ready and roll out a successful upgrade when the time comes. Need to know how APFS impacts your imaging workflows? Want to outline your options for deploying macOS High Sierra? Looking to use the new MDM configurations for iOS 11 and see what you can do with Apple TV?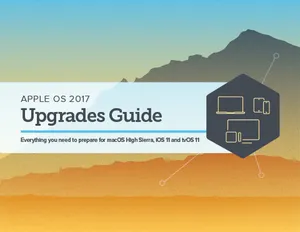 Then our Apple OS Upgrades Guide is right for you.
This guide offers answers to many of your upgrade questions and provides step-by-step guidance so you can make this upgrade season your best one yet.