At Jamf, our mission is to help organizations succeed with Apple. With that resolution comes the desire to provide value to our customers beyond just the products and service. As a result, we created Jamf Nation and Jamf Account as resources for our growing Jamf community.
You may have recently read about the new Jamf Nation and the launch of Jamf Account. With all the exciting enhancements happening, and some elements of Jamf Nation moving to Jamf Account, we thought we'd make it easier on our customers and provide more details and insight into what you will find in each location.
Jamf Nation
What is Jamf Nation?
Started more than 10 years ago, Jamf Nation is the largest online community of Apple administrators in the world. It's likely that you are a member, as people of all skill levels, verticals and geographies utilize the free and peer-led space to share best practices, gain insight, brainstorm and support fellow admins who use Jamf and manage Apple in their environments.
What should you use Jamf Nation for?
Discussion forums: Community members can easily locate the best forum to engage with their peers, find answers to their questions and see any posts from Jamfs regarding products.
Group hubs: With the introduction of group hubs, our community members can engage in spaces that holistically discuss topics or themes that interest them. For example, our Healthcare and Education group hubs are great places to post if you're looking to start a conversation around an idea of how to leverage Jamf products in these areas. We keep those hallway conversations going in the JNUC group hub. And User groups now have a space where they can engage with forum posts and update members with meeting notes, post notifications about events and show off their cool user group logos.
Feature requests: As part of the rollout of the new Jamf Nation Community, the way we gather feature requests from customers shifted to a new ideas portal, accessible within Jamf Nation. Our customers have great feature requests, and we want to keep hearing them. Customers can access the portal at ideas.jamf.com.
What's accessible from Jamf Nation?
Product documentation: Offering in-depth knowledge about Jamf's products, our wide-ranging documentation helps users be more successful with Jamf.
Jamf Account: A portal where customers will find the features related to their individual account with Jamf.
Jamf Store: Jamf's e-commerce experience allows interested parties to review Jamf's suite of offerings and pricing plans.
Marketplace: A central location for you to find, learn about and use valuable tools that integrate with and extend the Jamf platform.
Training catalog: These Jamf training courses offer hands-on macOS, iOS and tvOS management training with Jamf Pro.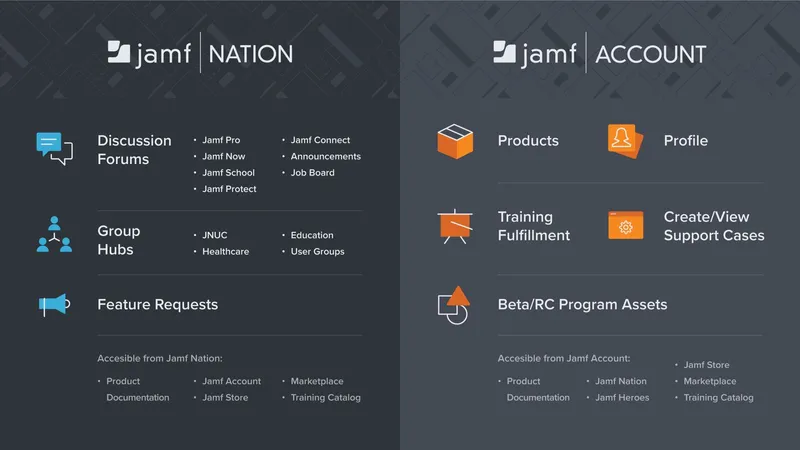 Jamf Account
What is Jamf Account?
Jamf Account is a new portal where you can find the features related to your individual account with Jamf. You can access Jamf products, manage support cases, manage your Jamf identity and enroll in Jamf training courses, plus participate in Beta/RC programs.
What should you use Jamf Account for?
Products: "My Assets" in Jamf Nation has been renamed to "Products" in Jamf Account. You can download product versions, review product documentation, learn about the product issues that were resolved as part of a release and find any important notices you need to know about a product version. You can also see details about your product instances and access to log into the instances.
Profile: Profile is where you update your account information.
Create/view support cases: All support needs (support cases, chat and support contact phone numbers) can be found here. You can open a new support case and manage all your support cases.
Training fulfillment: Training displays the courses that Jamf provides and lets you purchase seats in them. You can also purchase a Training Pass and view updates on your usage of it here.
Beta/RC Program: Access to Beta/RC programs can be found under "Product Feedback" section. You will see available Beta/RC programs here and can enroll and download the Beta programs.
What's accessible from Jamf Account?
Have questions about Jamf Nation?
Learn more about Jamf Account.