Say 'Hello' to Jamf Pro 11
Jamf Pro, the standard in Apple management, now has a fresh, modern look to complement powerful workflows for device and app management, inventory and security.
Refreshed user interface
With the beta version announced onstage during the JNUC keynote, today marks the public availability of Jamf Pro 11.0. This new version of Jamf Pro includes an entirely refreshed user interface, combining a modern look and feel with the powerful workflows that only Jamf Pro can deliver.
In addition to a more versatile and enjoyable experience, Jamf Pro 11.0 also provides important accessibility components, including:
Better screen reader capabilities
Tab key to navigate elements
Larger text size
Easier sidebar navigation
Greater contrast between font and background colors improves accessibility by making it easier to read text and scan information quickly.
The sidebar in Jamf Pro 11.0 has been redesigned to reduce visual clutter and streamline navigation. On the sidebar, an added button for the Dashboard and a Settings buttons make navigation to any area of Jamf Pro easier for admins.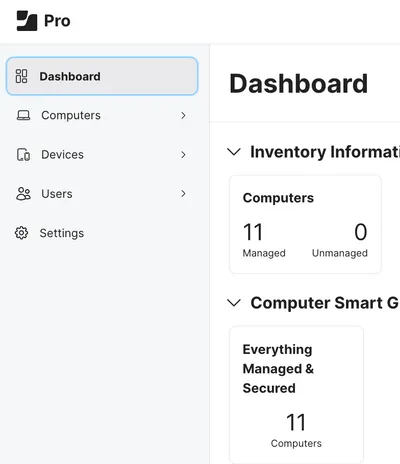 We could not be more excited to release this updated, modern look to Jamf Pro. But, as Veronica Batista noted in the JNUC keynote, "the evolution of Jamf Pro is more than just a pretty face."
Continued Apple support
Jamf Pro 11 is not only about its new interface but also continues to support the most important Apple features— including the new operating systems, iOS and iPadOS 17, macOS Sonoma and tvOS 17.
Managed software updates
Managed software updates —powered by Declarative Device Management (DDM)— add more functionality to the existing DDM protocol. It empowers Jamf Pro cloud admins to better schedule and enforce the latest software updates to managed devices. In the past, Jamf Pro would need to consistently have devices check in to refresh the latest data. Now, with managed software updates via DDM, admins can specify the date and time of updates. With DDM, devices now inform Jamf Pro when a change is made so admins know when updates are starting, installing and then completed— notifying end users in a timely fashion.
Software updates via DDM are much more reliable, reminding users more frequently as the deadline for the update approaches while continuing to provide a friendly user experience, particularly on macOS. And if a device can't update due to an issue such as power, battery life, storage, etc., thanks to the OS's resiliency, it continues to try again until the update is complete.
Updates on iOS-based devices with passcodes are also better enforced with the lock screen on iOS/iPadOS using the passcode to generate an authorization token which is then stored to approve the update installation. This means these devices can be updated without requiring the end user to unlock their device. For added safety, authorization tokens will expire. Devices that have not been unlocked after a certain time will not update automatically, but the user will still be prompted to update upon unlocking their device.
Configuring software update plans
Building a plan for software updates is a simple task, one that requires only these few steps to be performed by IT admins after authenticating to their Jamf Pro instance:
Navigate to Computers (or Devices) | Software Updates.
Choose the Install Action for the update you will use, the OS version or build you want enforced and specify the date and time updates will be applied.
There is no step three!
Once an update plan is defined, macOS will handle user notifications and reminders leading to the eventual enforcement deadline and update. Computers will proactively and autonomously give feedback to Jamf Pro regarding the update's progress.
For end users, they receive a visible, yet nonintrusive, notification about the date and time the update will be applied.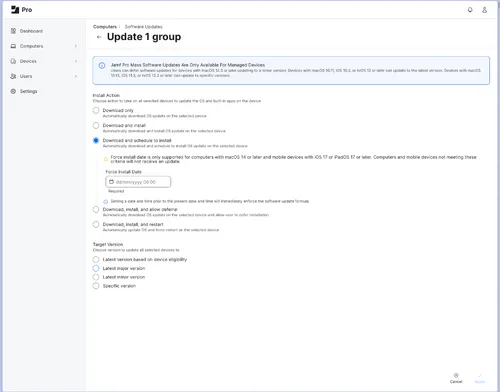 Note: This feature is only available to Jamf Cloud customers at this time. To use this feature, computers must be running macOS 14 or later and mobile devices must be running iOS 17/iPadOS 17 or later.
Support for Account-Driven Device enrollment for iOS/iPadOS 17
Account-Driven Device Enrollment (ADDE) gives organizations and their end users a more user-friendly and secure experience when enrolling devices. This workflow, for institutionally owned devices, is nearly identical to the Account-Driven User Enrollment (ADUE) workflow used with personally owned devices. End users simply enroll via the Settings app to enroll devices. This mitigates the risk of relying on a mistyped URL and the risk of bad actors using phishing websites that are designed to appear as an enrollment page.
ADUE and ADDE both keep organizational and personal data separated, upholding Apple's commitment to user privacy.
Note: ADDE is supported with Jamf Pro 11.0 or later on unsupervised devices with iOS 17 and iPadOS installed. Apple Business Manager or Apple School Manager and a Managed Apple ID are also required for this workflow.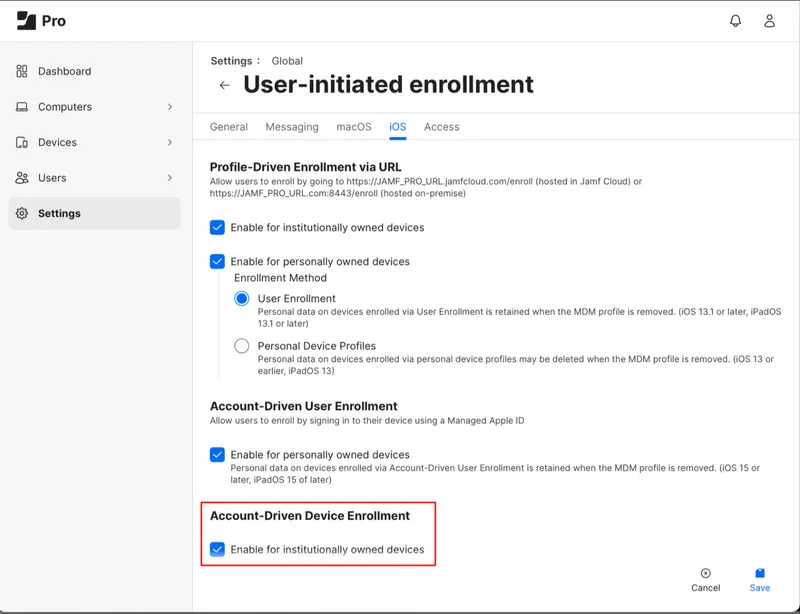 Inventory collection
In Jamf Pro 11.0 and later, organizations now have more granular options within the inventory collection configuration for the types of certificates collected for mobile devices and computers. When a Jamf Pro admin unchecks CollectUnmanaged Certificates from Settings, only certificates installed on managed mobile devices and computers by MDM are collected within their inventory.
This gives organizations the option to gather only the certificate inventory information they want, reducing the volume of certificates collected during inventory updates. Because less data is stored, both enrollment and inventory collection tasks perform faster. This critical change makes management with Jamf Pro more lean and more reliable — especially in large-scale enterprise environments.
Note: Before making adjustments to this Inventory Collection option, Jamf Pro admins should evaluate the criteria used for Smart Group membership and advanced searches and validate that a change does not impact desired workflow results.
When considering a change to this setting, evaluate workflows that include Group and Search criteria like Certificate Issuer, Certificate Name and Certificates Expiring.
If a Jamf Pro admin chooses to disable the collection of unmanaged certificates, it will not impact the device records of previously collected certificates already stored within Jamf Pro.
Jamf Pro obtains compliance accreditation status
Jamf Pro has attained the State Risk and Authorization Program (StateRAMP) Ready status for Jamf Pro. StateRAMP provides state and local governments with a standardized approach to ensure the cloud service suppliers they are working with meet the required cybersecurity standards. To learn more, visit the Trust Center.
To learn about all of the updates to Jamf Pro 11.0, visit the release notes or try Jamf Pro for yourself. Free of charge!